Shopify is one of the most powerfull eCommerce platforms in the industry, but that being said, there are still loads of features that's missing from the core product itself. Here are some apps that will ensure your store stays online as well as gives you some added features that you will need one day.
Backups: Rewind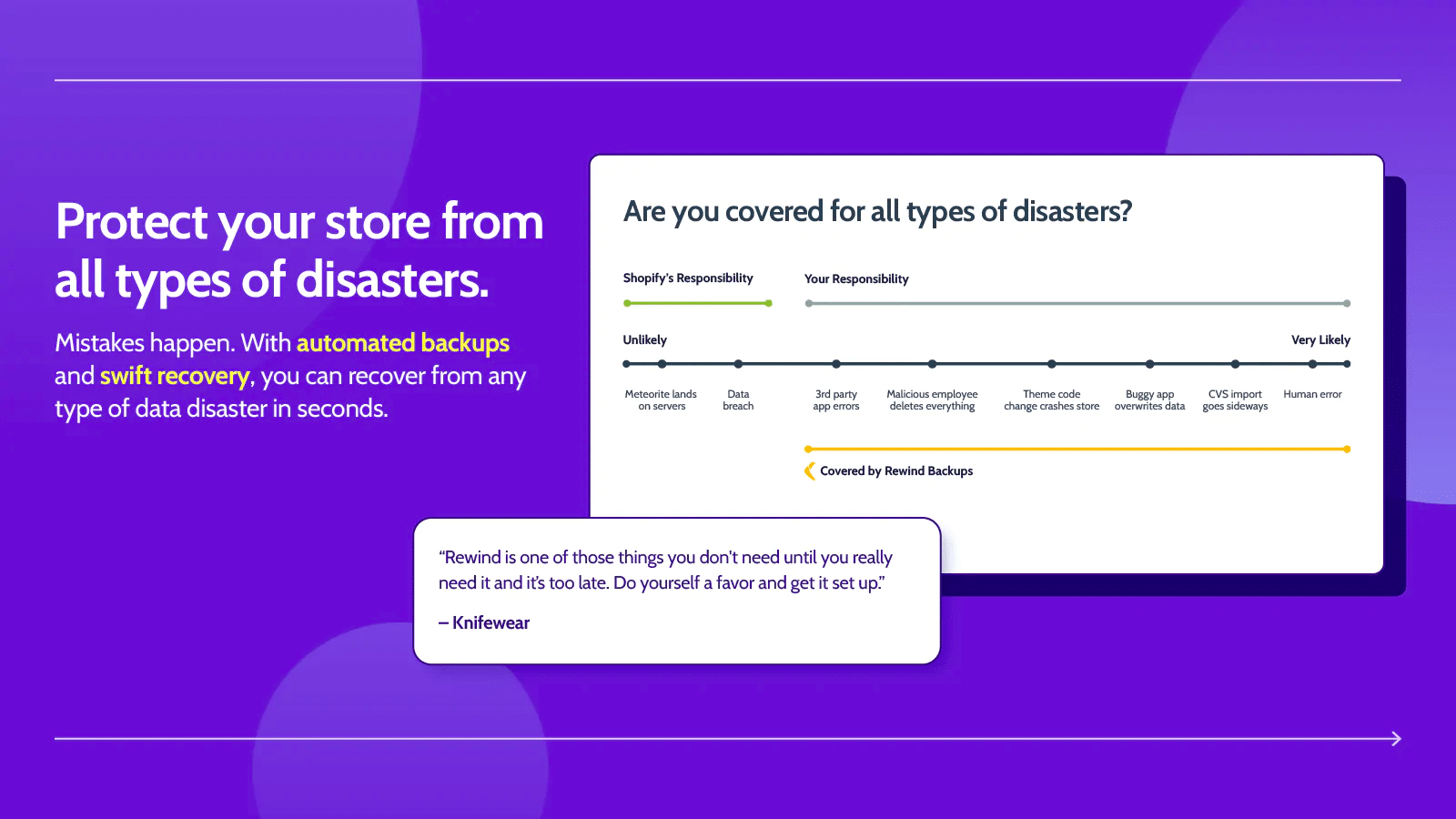 You ever hear the phrase "now I can sleep at night". Well, this is the solution if you've been wide awake wondering if your shop will error out in the morning, preventing you from making any money. With Rewind, you get a "set it and forget it" backup solution. When you see the price, you need to think of it as insurance. How often do you use your car insurance? You hope that you nevr have to. With Rewind, you certainly hope that you never have to, but let me tell you, you will love that its there when you need it. I've written plently of websites over the course of my career, and nothing is worse than when a website is down, and the backups fail or there are no backups. This is worth double the price it is currently and I highly recommend this product for any Shop.
Rewind
From $39/month. 7-day free trial. Additional charges may apply.
Marketing: SMS Bump
Some folks wouldn't think that this is essential, but most brands now a days are getting more intimate with their customers. SMS Marketing is extremely powerful, and people would just rather click a link via text then have to look for emails for a coupon they wanted to use. SMS Bump even has a free plan and you only pay for the SMS messages that you send, we're talking pennies. As an added bonus, you can even send up to 10k emails per month, extremly generous as Shopify allows the same, but without the SMS element.
SMSBump: SMS Marketing & Email
Free to Install. Message rates start from $0.0165 (US). Free 10,000 emails every 30 days.
Landing Page Builder: PageFly
Although the title says landing page builder, this application is really an all around page builder. Pagefly has been trusted time and time again as being a real web page builder that highly integrates with your shopify products. PageFly even includes page templates to help you along the way. Highly recommend if you'd like to add more functionality to your Shopify shop besides what is included with the default theme.
PageFly Landing Page Builder
Free with basic features. More realistic plan: $29/mo for up to 20 pages
Product Options: King Product Options
Although Shopify has some advanced product templates, there are some customizatons that just fall short. Sometimes you need the customer to fill out additional information, or offer a size guide. Luckily, there's a solution to that. King Product Options has over 400 positive 5 start reviews and its for a good reason. It's so simple to advanced product options to either a collection, product, or your entire shop if need be.